HESPA Development is the name we use to refer to our learning and development, or training, activity.
We use the "Strategic Planning in Higher Education" quadrant below (created by our HESPA development committee and executive committee) to help steer our offering and ensure that we are representing all members needs and interests. The HESPA Development Committee aim to identify the training and development needs of HESPA members, and work to build a comprehensive programme of development activity to support those needs.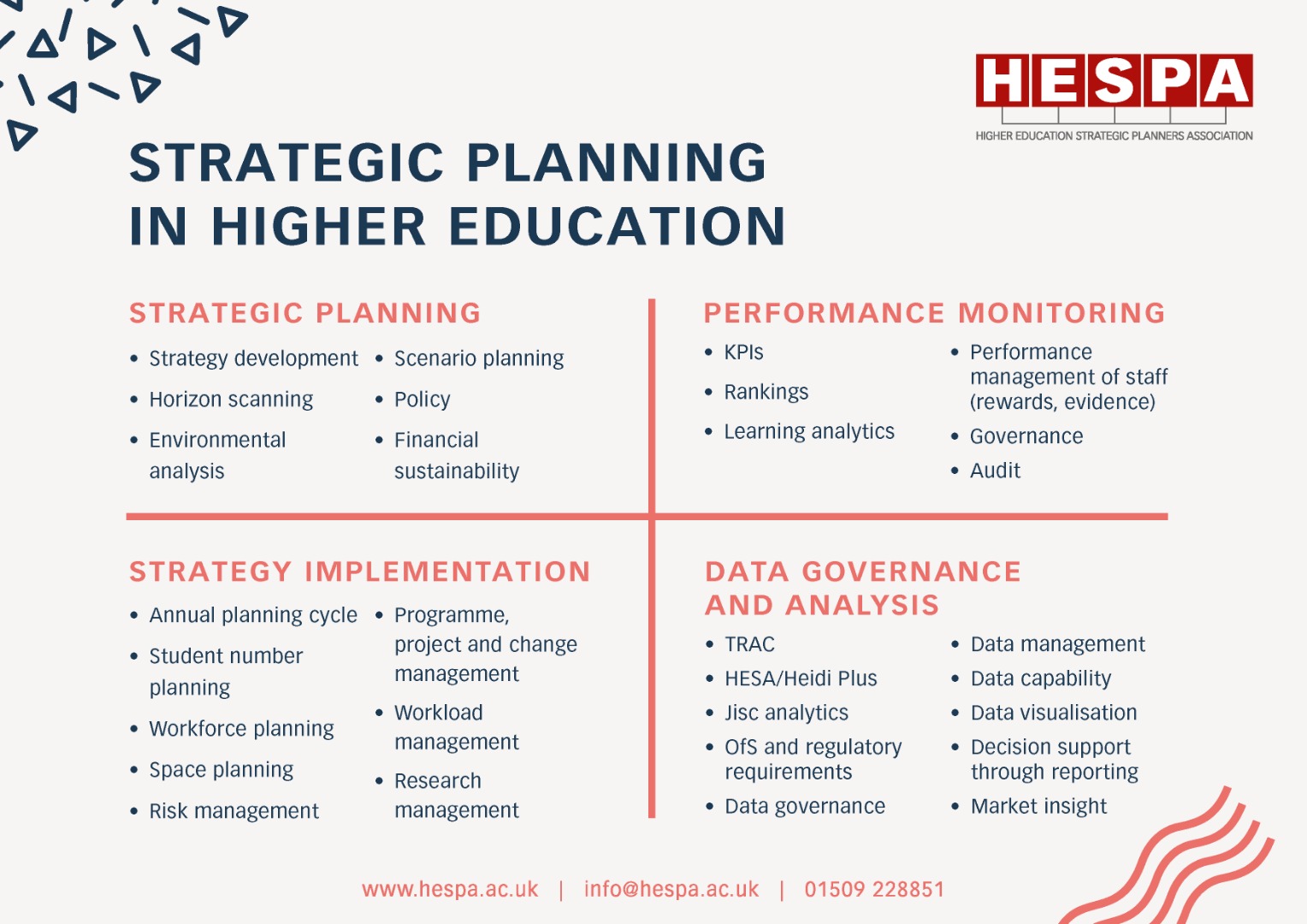 Strategic Planning in Higher Education Quadrant
Development activity for all members comprises paid-for training and a range of other additional learning opportunities, many of which are free (included in your annual subscription fee).  
We are very lucky to operate within a hugely active and engaged community and we couldn't offer such a high quality, relevant and tailored programme without the support of our members. If you have suggestions for additional development activities that would be useful to the community or indeed if you can offer training yourself, please contact lisa@hespa.ac.uk.

Strategic Planning in HE Training 
This Programme brings together our paid-for training activities. The activities divide into two categories;
•    Understanding the landscape – core sessions that provide valuable context for all planners
•    Building your capabilities – additional training that helps planners to develop specific capabilities and knowledge to support their work.
If you would are interested in a training activity that is not yet available for booking please email lisa@hespa.ac.uk to register your interest.
CPD Certification: One of HESPA's core objectives is to support the professional development and career progression of those working in strategy and planning. In working towards delivering this we are seeking certification for all paid-for training sessions with the CPD Certification Service.

Strategic Planning in HE: understanding the landscape  
These core sessions provide strategic planners with an understanding of both the landscape and the processes.
This session gives participants a structured and systematic understanding of the strategy-development and strategic planning process. In it, a clear case will be made for the separation of strategy from strategic planning and then a process will be shown for their development. Many practical tools and techniques for strategy development will be presented, with interactive sessions and templates for participants to take away to apply in their own institution.
Next event: 28 and 29 February 2024
The Annual Planning Process is fundamental to the implementation of strategy, and yet frequently it seems that what it delivers is not commensurate with the effort and time it absorbs. This session will explore what makes annual planning challenging and how to create a process that works for your university.  
The session begins from the perspective that the annual planning round must be a structured strategic conversation if it is to be effective, and the sessions will be structured as a set of conversations allowing participants to reflect on the issues and think through what will work in their own environment.
Next event: 19 June 2024
CPD Certificate awarded 
This 'Introduction to HE data' seminar is designed to provide colleagues new to data roles with a comprehensive overview and induction to the world of Higher Education data. The virtual version, which is held in two sessions over consecutive days, will give attendees an understanding of best practice when analysing HE data, and offer ideas for how their learning can be used in practice. Whilst a broad range of data sources will be covered, there will be a particular focus on HESA data and how it can be used to inform decision making across your organisation.
The session will be delivered by Daniel Kidd, Deputy Academic Registrar at the University of Wolverhampton and formerly Head of Training and Consultancy at HESA, via a combination of presentations, and there will be an opportunity for participants to ask questions after each section. There may also be a short piece of homework to complete in between sessions.
Next event: Dates to be confirmed
HEIs are now able to access and process ever larger quantities of data, coming from various sources – internal and external systems, students, social media, etc. - ever more quickly. However, data, KPIs and analytics must be related to strategic objectives and drivers to make a real difference to service quality and performance. 

In this workshop, we will address a range of questions, including:

•    How can we design KPIs that enable us to generate accurate and precise data?
•    How can we effectively transform data into information?
•    What types of behaviours and actions can we encourage through an information-based approach?

Next event: 5 and 6 March 2024

Strategic Planning in HE: building your capabilities  
These additional training sessions offer an opportunity for planners to develop their capabilities and knowledge in specific areas of strategic planning activity.  
Ever been caught off-guard by your VC and asked what 'we' should think about a policy proposal? Ever been tasked with writing a consultation response whilst coordinating a HESA return and not known what to say? Or maybe you have had a 700 page document send to your in-tray in the middle of a planning round been told 'read this by 5pm and summarise'. Does any of this sound familiar?   If so then this practical workshop might be for you. In this workshop, attendees will learn how to digest information, how to come up with opinions and how to communicate them effectively . 
Data is a crucial part of decision-making within any planning department – but we only truly get value from the numbers when we can present them effectively to other stakeholders. This course will give attendees the confidence and critical skills to translate their knowledge of the data into compelling visual presentations across a range of formats.
The course will lead attendees through a repeatable framework – evaluating the needs of the audience, identifying the key message, selecting the right chart, and using colour and design techniques to enhance the storytelling. The course will also cover the practical use of filters and drilldowns for interactive dashboards.
Next events: 15 and 16 April 2024

Additional Learning Opportunities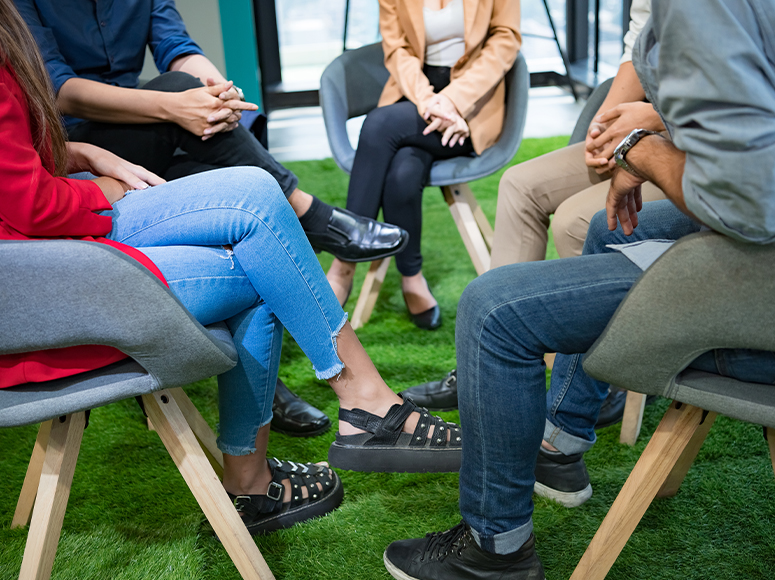 Special Interest Groups
A group of planners with a common interest who wish to engage in discussion and work in a particular area.
Discussion Boards
Members use the Discussion Boards to ask question and to share knowledge. These can provide a useful sounding board for ideas.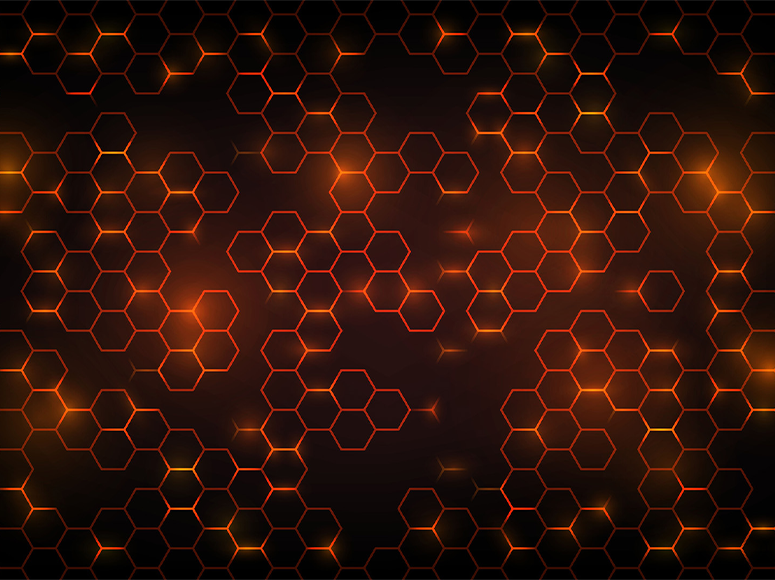 Annual Conferences
Our in-person and virtual conferences take place annually. Find out more about upcoming conferences and recordings and resources from past conferences here.